Heart-Shaped Blue Sapphire, Ceylon Sapphire and Diamond Pendant in Platinum
Sale price Price $8,900.00 Regular price
Handcrafted in solid 18K rose gold, the centerpiece of this pendant features a brilliant genuine 7.0mm heart-shaped blue sapphire in a bezel setting. A pear-shaped 1/6 ct. diamond solitaire sits as a crown atop the center stone. Additionally, genuine ceylon sapphires graduating in size from 1.0 - 2.0mm drip down from the linear hidden bale and form an open halo around the diamond and heart-shaped blue sapphire. Add this pendant to your favorite chain; Chain Sold Separately. 
•This item ships for free anywhere within the U.S.• 
Design
Platinum .950
Gemstone: Genuine Blue and Ceylon Sapphire
Gemstone Size: 7.0mm Heart-Shaped / 0.90mm Round
Gemstone Quality: AA / A
Gemstone Quality Description: Medium Navy to Royal Blue; Eye Clean; Good Brilliance; Good Cut; Good Polish
AGTA: H
Diamond Weight: 1/6 CT. T.W.
Diamond Color Grade: VS
Diamond Clarity Grade: G - I
Delivery
Made to Order; Based on this design, please allow 10 - 14 Business Days before it ships.
It will be delivered fully insured by our expert couriers & is covered by our 30-day Zero Hassle Return Policy.
IN RARE FORM
Platinum is the most rare precious metal. It's so rare that all of the platinum ever mined could fit into the average American living room. That's a key part of its prestige. That's also why it's a fitting choice for the most significant, meaningful, and rare moments in life.
REASSURING ECO-CONSCIOUS CUSTOMERS
As is the case with many precious things, platinum's rarity and the conditions of its production might give some customers pause. All from Del Francis Jewelry, however, are SCS-certified 100% recycled—a promise passed on to our customers.

HEAD OF SECURITY
Platinum's strong suit is nothing less than strength itself. Platinum also has less metal memory than other precious metals, which means it's less likely to revert back to its original form. That's why platinum findings are less likely to lose their shape over time. To put it another way: nothing else holds a diamond more securely. It's a measure of security that makes it a convincing choice for many brides.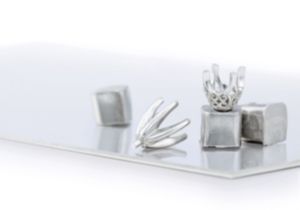 HEADS UP—THE POINT OF A PLATINUM HEAD
A customer benefits from the security of a platinum setting for their center stone. Platinum heads give you a premium product and peace of mind about your investment.
PURE GENIUS
The most pure precious metal, platinum is a fitting symbol for the purest emotions. To be considered platinum, an alloy must be 90% pure platinum. All platinum jewelry at Del Francis Jewelry is 95% pure. The combination of platinum's purity, density, and durability means that it's easier to maintain. It takes a high, resilient polish and is particularly resistant to chipping or any type of metal loss as a result of wear. Its naturally white color means no need for rhodium plating — ever.
WORTH THE WEIGHT
Platinum has more heft than other precious metals. That means it feels heavier compared to its size. Platinum, is approximately 60% heavier than 14K gold and 40% heavier than 18K gold.
AGING WITH GRACE
Platinum's initial shimmering luster resolves over time, giving way to its celebrated patina—the refined look of well-worn platinum.
VITAMIN P
Platinum isn't only pretty and pure, but it's completely hypoallergenic, eliminating the possibility of metal related irritations.